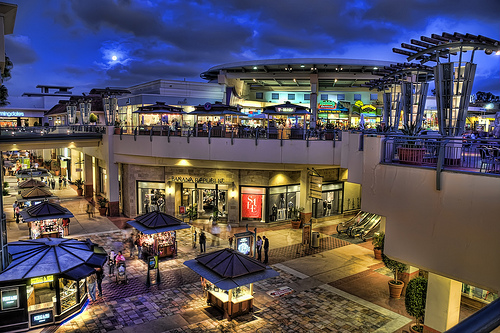 Fashion Valley takes its name from the largest mall in San Diego County. As one of the premier shopping locations in Southern California, Fashion Valley contains an impressive array of shopping, restaurants, and other amenities that make it a great place to live. Far from being a solely commercial area, there are many nearby parks, trails, and green space. Other great places to live in Mission Valley are Escala, San Diego Mission, Hotel Circle, and Friars Road.
Living in Fashion Valley
Fashion Valley is one of the most developed and feature-loaded places in San Diego and is situated in Mission Valley. It houses many luxurious condos with 1-3 bedroom units with open-floor plans, spacious interiors, well-furnished kitchens, and various spectacular community amenities. Most have pools, courtyards, barbecue areas, lounges, and many other unique and luxurious amenities.
Location:
Fashion Valley is located in the Mission Valley area, which is a broad river valley situated at the centre of San Diego. The San Diego river flows East to West through this region and empties into the Pacific Ocean at the West end of the valley. The valley is easily accessible by many freeways, highways, major roads, and public transit.
Amenities:
There are many graduate schools in the area. The most popular is the International House, which offers a great variety of courses and active social programs. The school has campuses located in more than 47 different countries. Fashion Valley also has a wide variety of shopping centers and restaurants. There are about 18 movie theaters and 5 department stores including Macy's and Nordstrom. Featured stores are Louis Vuitton, Hugo BOSS, and Omega among others.
Looking to Buy in Fashion Valley?
If you are interested in finding a condo in Fashion Valley, or even receiving a free professional estimate of your current home's value, please contact our area expert Jeremy Katz by phone (619) 227-5221 or email [email protected]