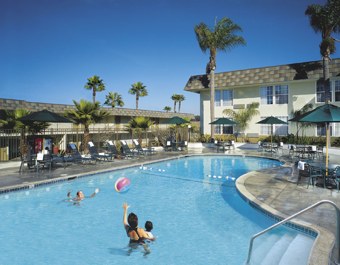 Hotel Circle is an area in the west end of Mission Valley. As its name suggests, Hotel Circle features a wide variety of hotels. However, there are numerous condos in the area as well. The land here was originally on the outskirts of San Diego but with the building of the first hotel in 1953 became the first part of Mission Valley to develop. Other great places to live in Mission Valley are Escala, San Diego Mission, Fashion Valley, and Friars Road.
Living in Hotel Circle Condos
As one of the older areas in Mission Valley, Hotel Circle provides a great deal of mid-century charm in its architecture. The condos here are of varied type and age, ranging from ultra modern to classic design and historic style. One cannot beat the connectivity of the area to I-8 and I-5 which allows for quick and convenient access to beaches, downtown, and just about anywhere in the entire US.
Location:
Hotel Circle is located just of I-8 and to the immediate East of Old Town San Diego. Major roads in the area are I-5, I-805, I-15, and CA 163. Situated in close proximity to the Pacific Ocean, the valley has a milder and more temperate climate than many areas further inland.
Real Estate Info:
This region is mostly popular for its hotels but it also houses some of the most lucrative condos of the Mission Valley area. Following are some of the most popular condos.
Presidio View: Located beside the Handlery Hotel, these condos are filled with features and upgraded finishing. Located beside I-8, these condos are close to the best that San Diego has to offer. Options include 2, 3 or 4 bedrooms with fully furnished kitchens. Amenities include resort-style pools, courtyards, spas, fitness centers, indoor parking, and much more.

River Front: These condos are located in one of the most attractive regions of Mission Valley. River Front homes offer a wide variety of options as far as bedrooms and square footage are concerned. Other amenities include resort-type pools, spas, and fountains that create a splendid ambiance. The popular shopping malls are close and the golf course is a 5-minute drive away.
Area Amenities:
As far as shopping is concerned, it is unlikely that one would ever have to leave the immediate area whether they are in need of a new couch or simply a wardrobe update. The Fashion Valley Mall has a wide variety of shopping with notable stores being H&M, Gucci, JC Penny, Macy's, the Apple Store, and many others. Other stores in the vicinity are Target, Costco, IKEA, and a wide variety of others. Nearby restaurants include Rubo's Fresh Mexican Grill, King's Fish House, Kous Kous Morrocan Bistro, Lazy Dog Restaurant and Bar, Fuji Japanese Steakhouse and Sushi, and many more.
Looking to Buy in Hotel Circle?
If you are looking to find a home in Hotel Circle, please call Jeremy Katz at (619) 227-5221 or email jkatz@SDHouseHunting.com.